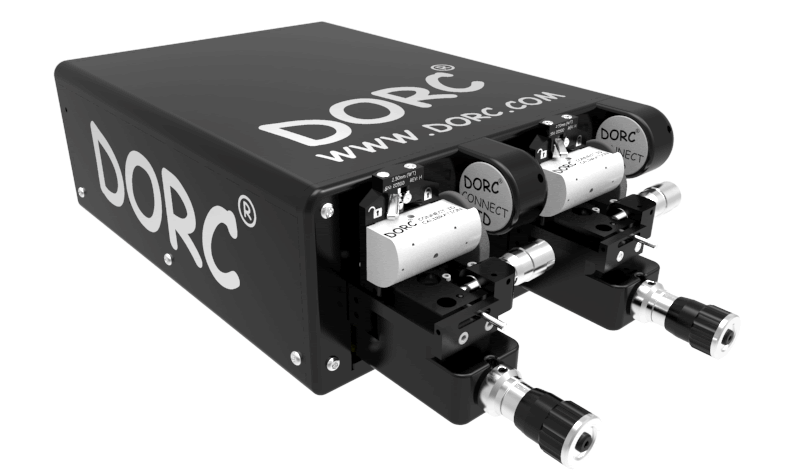 Key Benefits:
World's First DUAL headed interferometer.
Can be configured with ANY 2 modules from the ZX-1 micro series of products.
Controlled by a single PC.
Simultaneous measurements from BOTH modules.
Allows measurement of hybrid patch cords without changing fixtures.
Very small footprint – supplied by default with a laptop computer. Desktop and Tablet PC's available upon request.
Modular design allows the system to grow with your needs and budget.
Automatic focus, manual focus or BOTH!!
Hermetically sealed optical modules – a dusty production environment is no longer a problem.
High resolution camera and optics – results in improved repeatability and reproducibility.
Simple interface – just a single power cord and USB 2.0 or 3.0 ports on the rear.
No anti-vibration table required. Fan-less design removes any system induced vibration.
"Auto Sense" technology, initiates measurements automatically as soon as the connectors are inserted.
Simple operation – centering, focus and initiating the measurements themselves can all be completely automatic.
Calibration is held on the instrument itself, eliminating the need to keep the system and PC as a matched pair.
Software backup, calibration and an image of the PC itself (if supplied), are all stored on the instrument itself, in non-volatile memory – making lost disks, viruses, deleted files, corrupted Windows and PC failures easy to fix.
System design lends itself to integration in automated production lines.

Manufactured by a vendor that has sold more automated connector measuring interferometers than any other.
Complete system ships in a single 16"x16"x20" box when configured with a laptop or tablet PC.
1 Year Warranty included.

ZX-1 micro DUET+ Product Information
DORC's ZX-1 micro DUET+ is the worlds first "dual headed" system, designed primarily for measuring BOTH ends of hybrid patch cords "simultaneously" using a single PC and operator. For example, both ends of a 1.25mm to 2.50mm patch cord can be measured at the same time - without the need to change chucks. Data for both ends appears consecutively in the history report, greatly reducing the time and data handling typically associated with measuring all the 1.25mm ends first, changing chucks and then measuring all the 2.50mm ends. The use of a single PC as a controller reduces the system cost while improving operator productivity and throughput.
The ZX-1 micro DUET+ can be configured with any two modules from the ZX-1 micro PMS+ series of measurement instruments. Typical configurations might include:
2 x ZX-1 micro PMS+ modules installed with different chucks for measuring hybrid patch cords.
1 x ZX-1 micro PMS+ module and 1 x ZX-1 micro Array+ module for measuring MT/MPO fan out assemblies.
1 x ZX-1 micro PMS+ module and 1 x ZX-1 micro 20-20 Vision module for measuring single fiber patch cord geometry and very high resolution scratch analysis.
1 x ZX-1 micro PMS+ module and 1 x ZX-1 micro Tune UP module for measuring single fiber patch cord geometry and very high resolution core eccentricity analysis.
It is important to understand that because the individual systems are aware of each other's actions, the ZX-1 micro DUET+ system becomes much more than the sum of its parts.

Pricing and Configuration Information:
ZX-1 micro DUET+ pricing and configuration is a very simple process. Using the quotations from any compatible "micro" series product, configure 2 "micro" systems any way you like them - as long as you comply with the configuration restrictions listed on each products page.  Only select 1 PC - (if any), and then apply the ZX-1 micro DUET+ package discount from the total price of the entire system configuration.