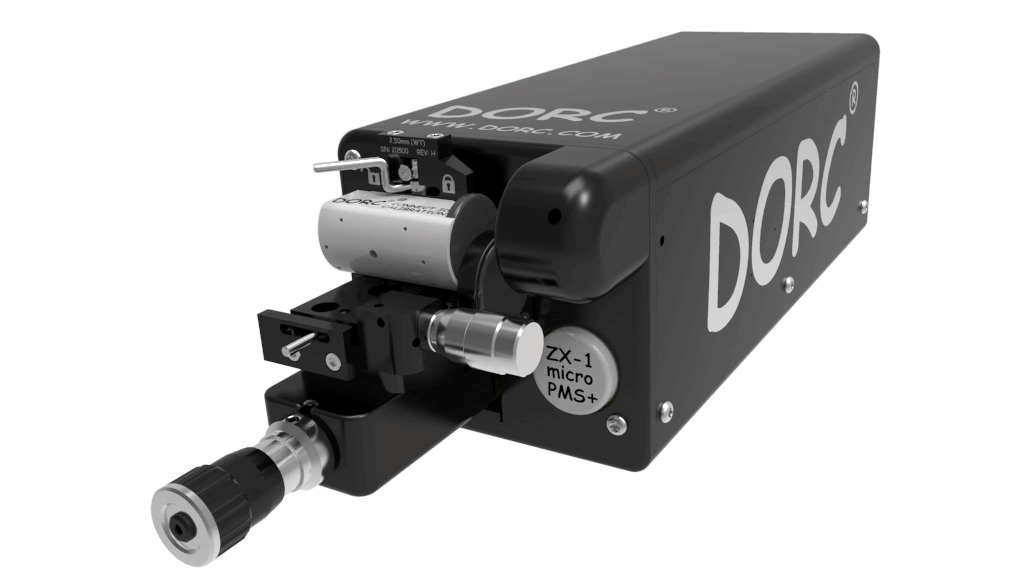 Key Benefits:
Measures single fiber connectors and fiber cleaves.
Patented RFID interface allows instant apex offset calibration in a single measurement.
Very small footprint – supplied by default with a laptop computer. Desktop and Tablet PC's available upon request.
Modular design allows the system to grow with your needs and budget.
Automatic reference mirror calibration – NO manual adjustments!!
Automatic connector centering – NO manual adjustments!!
Fast automatic focus, manual focus or BOTH!!
Hermetically sealed optical module – a dusty production environment is no longer a problem.
High resolution camera and optics – results in improved repeatability and reproducibility.
Simple interface – just a single power cord and USB 3.0 port on the rear.
No anti-vibration table required. Fan-less design removes any system induced vibration.
Patented inspection mode and scratch analysis.
Fast measurement – <1 second (depending on model, excluding focus).
"Auto Sense" technology, initiates a measurement automatically as soon as the connector is inserted.
Simple operation – centering, focus and initiating the scan itself can all be completely automatic.
Calibration is held on the instrument itself, eliminating the need to keep the interferometer and PC as a matched pair.
Software backup, calibration and an image of the PC itself (if supplied), are all stored on the instrument itself, in non-volatile memory – making lost disks, viruses, deleted files, corrupted Windows and PC failures easy to fix.
System design lends itself to integration in automated production lines.

Manufactured by a vendor that has sold more automated connector measuring interferometers than any other.
Complete system ships in a single 16"x16"x20" box when configured with a laptop or tablet PC.
1 Year Warranty included.

ZX-1 micro PMS+ Product Information
Used primarily to measure single fiber PC and APC connectors, DORC's fifth generation "ZX-1 micro PMS+" is the result of 29 years of hardware and software product development. DORC's patented design is based on a variant of the Michelson configuration, and provides BOTH 2D and 3D high resolution images of the sample under test - in as little as 3 seconds - including auto-focus.
The ZX-1 micro PMS+ is a modular system allowing many different configurations and price points. Unlike our competitors, this allows customers on a budget to purchase a system that can grow with their needs/budget - and eventually upgraded to become the most advanced system we offer. The key to achieving this is that the "base design" is the same for ALL configurations. Competitors typically use a different base design on their low end/lower cost systems which means they can never become more advanced systems in the future.
The innovative design leaves nothing for the operator to do other than insert and remove connectors. Focus, centering and reference mirror calibration adjustments are all available fully automated – NO user mechanical adjustments required! The system is very compact and controlled by a laptop computer (desktop or tablet PC's optional) using a single USB 2.0 or 3.0 interface cable. The fan-less, hermetically sealed design is vibration insensitive and impervious to ingress of dust and contamination - making the ZX-1 micro PMS+ feel equally at home in both production and field based applications.
DORC's novel Patented RFID "Connect ID" Sensor is the most significant system enhancement in many years. It allows many innovative new features:
Instant apex offset calibration of the interferometer when changing chucks. Inserting a "Connect ID" Reference Connector instantly initiates the calibration process using a single measurement. Unique characteristics about the endface geometry of the reference connector being measured are automatically transferred to the ZX-1 micro PMS+. This unique information allows the calibration process to be completed instantly, without the need to perform multiple rotations of the reference connector – a process that could take several minutes using current methods. The autofocus option is highly recommended when using this feature.
The Z stage will back itself away from the front panel automatically when a "Connect ID" enabled chuck removal tool approaches the system. This removes the possibility of damaging the interferometer's primary optical window when removing or installing chucks. This feature requires the autofocus option to work!!
Chucks that are "Connect ID" enabled transfer information about their capabilities to the ZX-1 micro PMS+ automatically, as soon as they are installed. This allows the system to become "context sensitive" to its configuration. For example, if a single fiber chuck is installed on a ZX-1 micro Array+, it can automatically change to single fiber mode and all software menus will become truncated to include features only applicable to single fiber measurements.
A variety of standard and custom ferrule diameter chucks are available to support all types of single fiber connector diameters and even bare fibers. Only one screw is used to secure a chuck to the interferometer and changing chucks can be accomplished in just seconds - with less than 30 seconds required overall, INCLUDING the apex offset calibration.

Once a connector is measured, all results are automatically saved in the industry standard Microsoft Excel® format. The operator has a wide variety of display, printing and saving options for both measurement "History" and "Quality Control" reports. The Patented design provides the ability to simultaneously provide 3D geometry, 2D microscope image and automated scratch analysis of the connector under test - removing the requirement for separate instruments to provide this additional functionality.

The ZX-1 micro PMS+ stores all calibration, the PMS (Phase Measuring System) software and even a complete image of the system controller's hard drive (if supplied), on the instrument itself. This not only makes the system PC independent, but also means that the system can recover itself from virus attacks, Windows file corruption, deleted files, malicious employees and potential PC failures in just minutes. The system also has a "factory restore" capability, returning the unit to its shipped state at the press of a button. Add to this the fact that software updates can be downloaded directly from our web site and there is NO scheduled maintenance whatsoever, and you end up with a maintenance technicians "dream machine".

It's important to remember that DORC only manufactures interferometers for measuring the end face geometry of fiber optic connectors. It is our focus and our passion, and we do not find ourselves distracted by unrelated product lines. In many ways this fact is reflected by our success over the past 29 years – DORC has sold more automated connector measuring interferometers than any other manufacturer.

ZX-1 micro PMS+ Home Page
ZX-1 micro PMS+ Configurations and Options
ZX-1 micro PMS+ Specifications
ZX-1 micro PMS+ Sample Images and QC Reports